Ringlock
Ringlock scaffolding system is a proven multi-purpose scaffold system which can be used for all forms of access and support structures in the building construction industries, facade retention, offshore construction, viaducts etc. It consists of tubes, captive wedges, and round rosettes, or rings, that create quick and extremely strong connections. Various angles can be achieved, allowing for a very versatile design, depending upon your project's needs.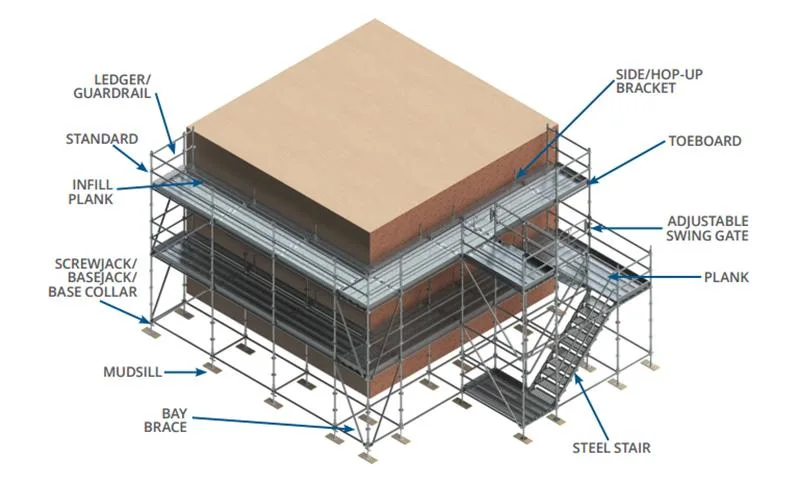 Aluminum Hatch Plank
| | | |
| --- | --- | --- |
| Item No. | Description | Weight (kgs) |
| RAHP1400 | 1.40M Aluminum Hatch Deck | 14.60 |
| RAHP2070 | 2.07M Aluminum Hatch Deck | 19.50 |
| RAHP2570 | 2.57M Aluminum Hatch Deck | 23.60 |
| RAHP3070 | 3.07M Aluminum Hatch Deck | 27.80 |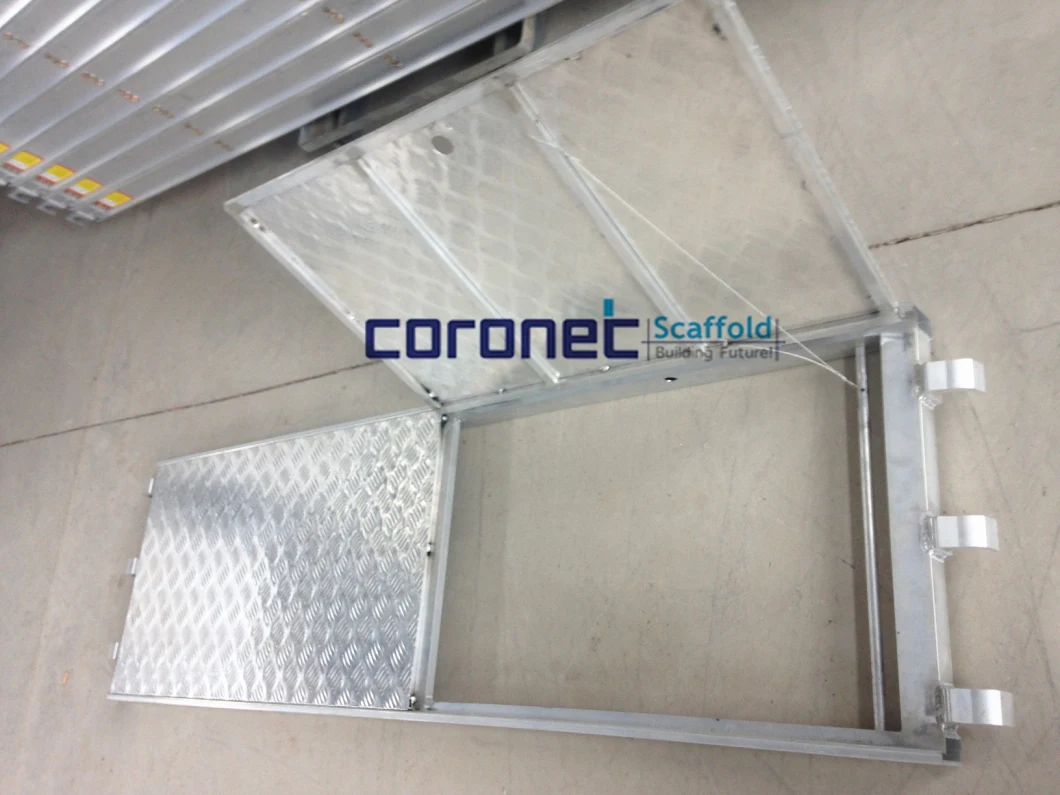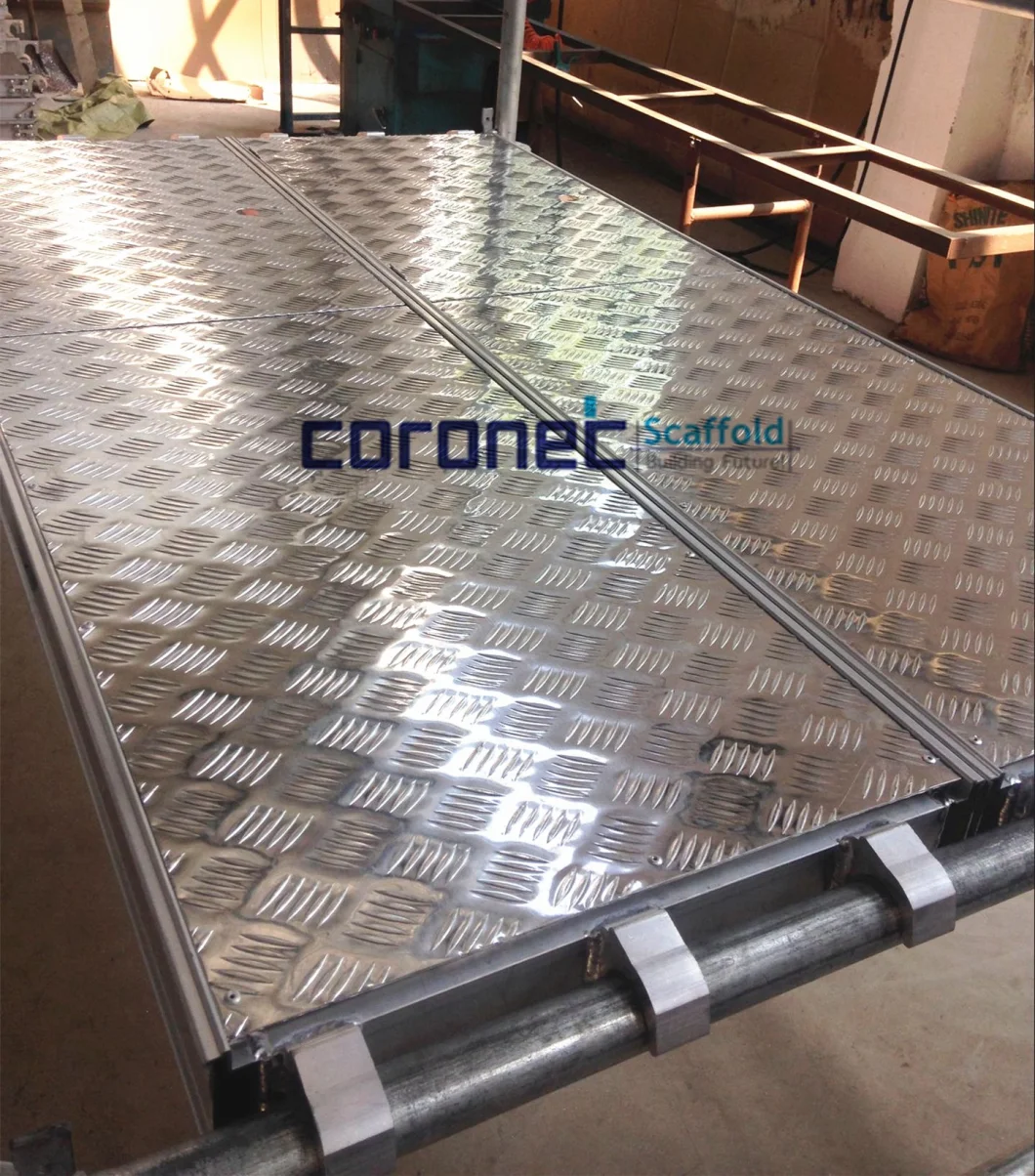 CORONET HISTORY
CORONET SCAFFOLD GROUP, ONE OF THE LEADING AND MOST QUALIFIED SCAFFOLDING COMPANIES HERE IN CHINA.
With the head quarter in Suzhou, Jiangsu Province, China and a branch office in California, U.S., Coronet Scaffold is a scaffold manufacturer founded in 2004. We can provide our clients with professional scaffold solutions. To meet the demands of various markets, we also provide various scaffold systems, including ringlock, cuplock, scaffolding frame, tube & clamp, sidewalk bridge, c60 heavy duty scaffolding, QES and formwork systems etc.

Custom Scaffold
Coronet has an outstanding product design team, production management team and quality assurance team that work together seamlessly in order to provide professional scaffold solutions and OEM service for customers.
In 2015, we provided construction scaffolds for a government program in Cochabamba, Bolivia. According to the client's requirement, we developed a scaffold that could bear 60KN force, which we named C60 Heavy Duty Scaffolding.
In 2014, we provided approximately 10,000 tons of mine scaffolds to Koniambo Nickel SAS in New Caledonia.

Material
Our scaffolds are usually made from Q235 and Q345 steel. If the scaffolds are to be used in extremely cold areas like winter in Canada, Q345D can be used as it can withstand impact of -20ºC.

Production Process
As a professional scaffold manufacturer, Coronet operates with a complete set of advanced production processes: raw material inspection, mechanical processing, welding, surface treatment, surface repair, erection.
- Raw material inspection
- Mechanical processing
- Welding
- Surface treatment
- Surface repair
- Erection

Manufacturing Equipment
We have professional scaffold workshops equipped with advanced manufacturing equipment, including punching machines, welding machines, pipe cutting machines, shearing machines, bending machines, screw machines etc. Our facilities ensure product quality and productivity. Our current annual production is up to 30,000 tons.

Testing Device
We have professional testing devices such as Vernier calipers, spiral micrometers and zinc coat thickness gauges etc. To make sure the products meet customer requirements, Coronet has established a quality assurance department, strictly conduct raw material inspection, process control and end product examination.

Certifications
Coronet is unique company as we do have multiple certifications for all-round scaffolding products across globe to satisfy worldwide customer's request.
At Coronet, all of our materials are certificated by below laboratories and we are standing by to provide you all of products evaluation, testing.

Ringlock System:
US: ANSI / SSFI SC100-5/05, certificte# Cor006-12-12-09676 by Element.

Austrilia / New Zealand :AS/NZS 1576.1:2010; AS/NZS 1576.2:2009; AS/NZS 1576.3:2015, report MT-15/392-B/C/D/E/F by Melbourne Testing Services.

Argentina: INTI EN12811 certificate by INTI-N 63-31300

Columbia : INFORME PRUEBAS DE LABORATORIO by ESCUELA COLOMBIANA DE INGENIERIA JULIO GARAVITO
Cuplock System:
ANSI / SSFI SC100-5/05, certificate# Cor006-12-12-09683 by Element
Scaffold steel plank:
End closed planks complies with AS/NZS 1577:2013, report # MT-15/392 by Melbourne Testing Services.

SSP complies with AS/NZS 1577:2013, report # MT-15/392-A1/A2/A3 by Melbourne Testing Services.

plank complies with AS/NZS 1577:2013, report # SHIN160702718CCM by SGS

Lower profile steel plank complies with ANSI/ASSE A10.8-2011 report # SHIN160803006CCM by SGS
Kwikstage System:
AS/NZS 1576.3:2009, report # MT-13-037 by Melbourne Testing Services.
Frame System:
ANSI/SSFI SC100-5/05, certificate # Cor001-09-12-94129 by Carleton Laboratory Columbia University.

ANSI/SSFI SC100-5/05, certificate # SHIN160903107CCM by SGS

Frame max. leg load and uniform load, report #SHIN160802972CCM by SGS