The model perfectly suited to lightweight applications such as painting and decorating, refurbishing, jointing and repairs, windows cleaning etc. The complete system consists of the working platform equipped with two electric LTD hoists and the support wheels, suspended by means of steel wire ropes from a suspension structure.
Application of suspended platform:
1.Decorating and constructing the external walls of high rise buildings.
2.Repairing, checking, maintenance and cleaning for the external walls of the high rise buildings.
3.Construction, repairing and maintenance for large scale projects such as large tanks,chimneys,
dams & bridges.
4.Welding, cleaning and painting for large ships.
5.Installing billboard for the high- rise buildings.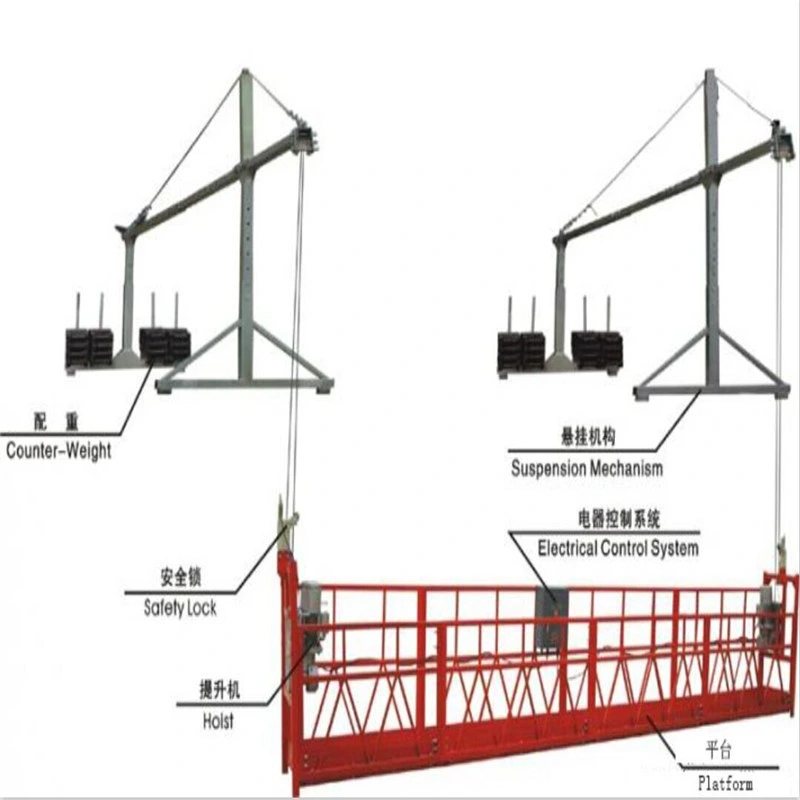 | | | | |
| --- | --- | --- | --- |
| | | | |
| | | | |
| | | | |
| | 1m to 5m(can be spliced by random) | 1m to 6m(can be spliced by random) | 1m to 7.5m(can be spliced by random) |
| | | | |
| | | | |
| | | | |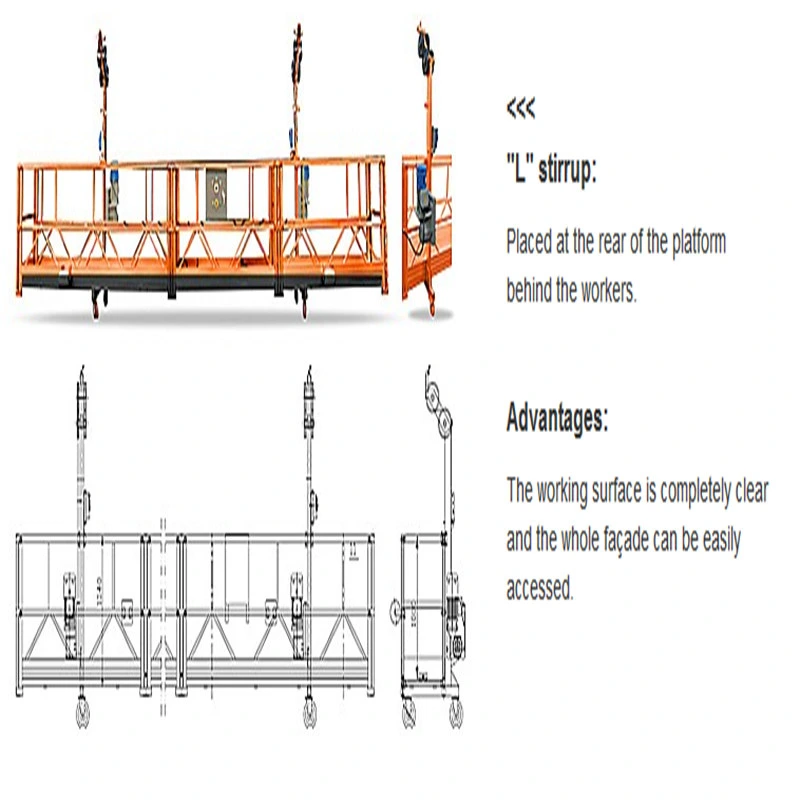 Safety Systems
To ensure safe operation without danger to personnel, the platform is fitted with the following safety devices:
1. Service brake incorporated in the LTD hoist.
2. Two fall arrest devices acting on the safety wire ropes.
3. Two upper limit switches.
4. No power descent in case of power failure.
5. Emergency stop.
6. Phase controller. (Option)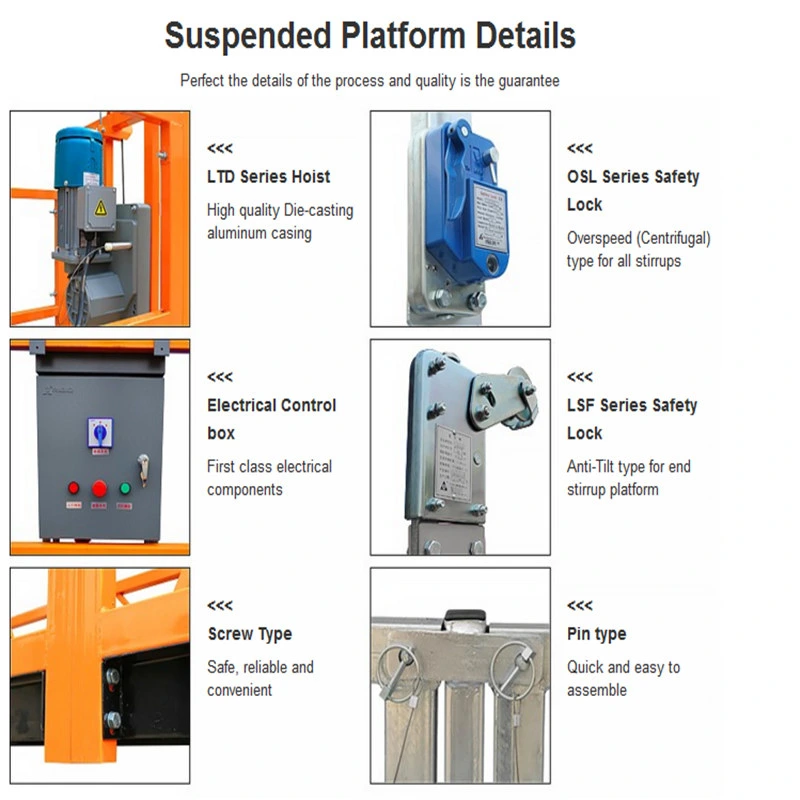 Packing & Delivery
To better ensure the safety of your goods, professional, environmentally friendly, convenient and efficient packaging services will be provided.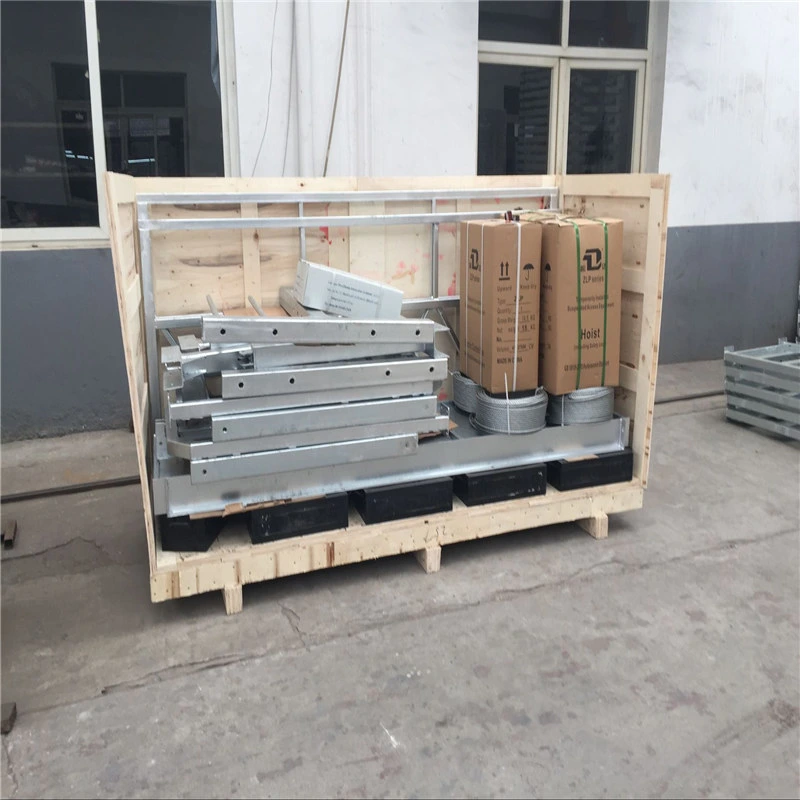 Company Profile
Tavol Cranes Group Co.,Ltd
---- The International Market Pioneer of Cranes and Lifting Machinery from China.
This is an esteemed, leading disciplined and quality manufacturer and service provider for the lifting, materials handling products and Construction Machinery for the Industry.
Over 20 years 1000+ Companies Create Great Value with Tavol Cranes and Lifting Machines, We have 200+ Professionals at your Disposal. A Personalized, fast and Efficient Service.
History : Since 1999 ,20 Years Experience
Location : Under Mountain Taishan,Shandong Province,P.R. China
Mission :Service Our Customers to Provide Quality to the End User While Working and Growing Together.