What you are looking for is
304 304L 316L Stainless Steel Parking Barrier Post with Expansion Bolt
Have you encountered these situations?

1

"I came to the store to unload in the early morning, and

the dedicated parking space of the store was occupied

, which caused the difficulty of unloading, delayed the store's business hours, and the income is less today"

2

"The barriers in the community are

fixed bollards

, which guarantees safety to a certain extent, but

private cars can't get in

. I bought a car to go to the supermarket to buy things. In the end, I still had to carry heavy things and walk in..."

3

"I bought the steel barriers cheaply to separate the crowd from the vehicles. After a short time, they rusted. It was a new amusement park, because these

rusty steel bollards affected the image and fewer people came.

"
The problem may not be a big one, but it hasn't been solved, so I feel very annoyed!
I have to solve these problems, but what should I do?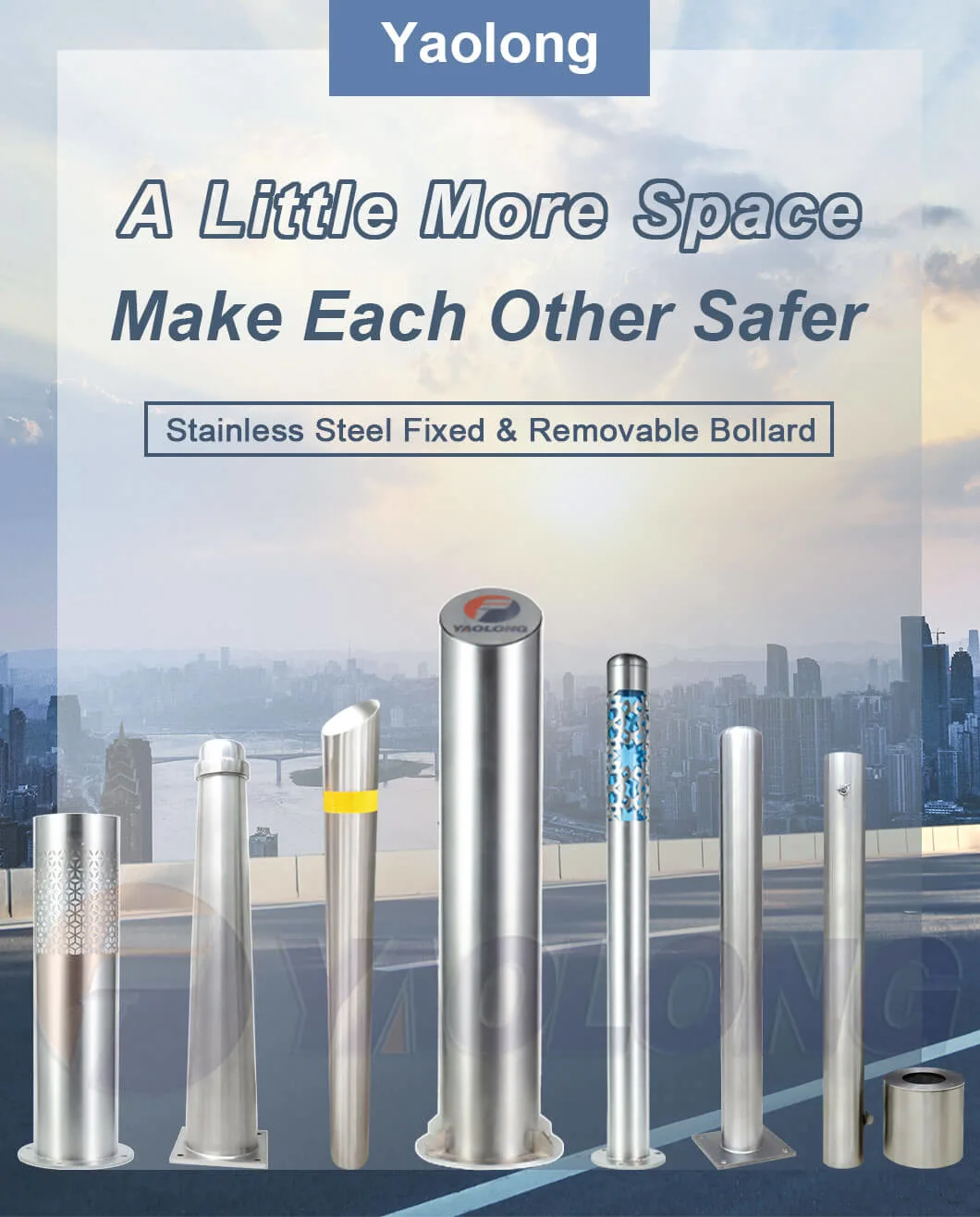 Why Choose Us?
High quality raw materials.
304, 304L, and 316 grade stainless steel produced by famous large steel plants such as Baosteel and Taigang are selected, and high-technical product production lines are used. After 20 procedures, the plates are processed into bollards. It is durable and not easy to rust so that it can be used for many years after installation.

Diverse styles can be customized.
Flat top, dome top, sloped top; brushed, polished, mirror polished; fixed base plate, with decorative cover, expansion bolts, we can arrange whatever you want.
We can also carve patterns on the slopes of bollards and we have been provided more than 2000 high-quality road piles with custom logo to Australia, Saudi Arabia, Dubai.

Easy to install and use.
We will provide a usage plan before sale and installation instructions after sale. Installation can be completed in a short time, without having to spend money to ask an engineer. It can be used directly or in combination with removable bollards and automatic bollards to control vehicles entering and exiting from fixed boundaries.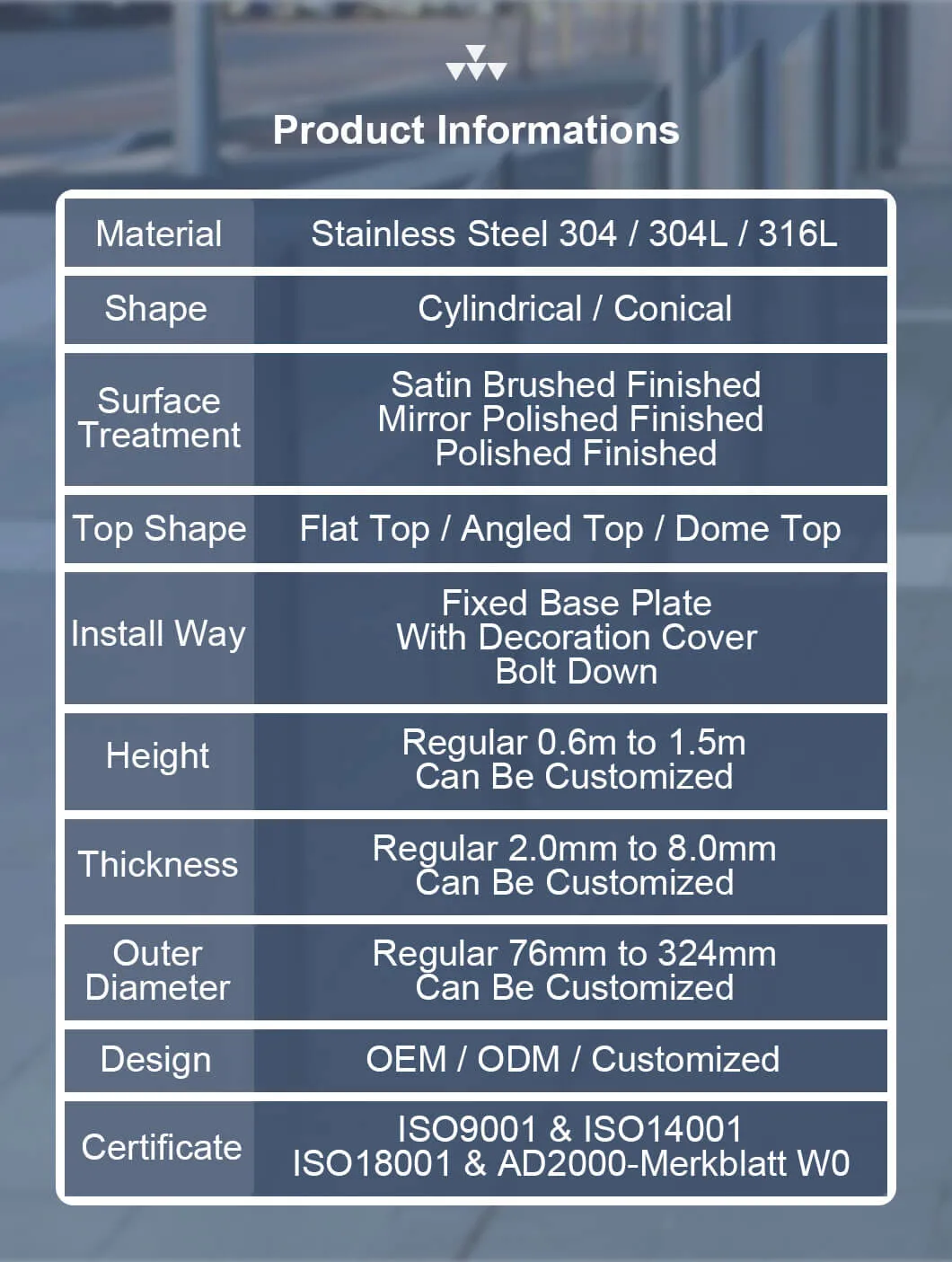 Specifications

Diameter(mm)

Thickness

Height(mm)

2.0
3.0
4.0
5.0
6.0
7.0
8.0
76
√
√
√
600mm-1500mm
89
√
√
√
√
102
√
√
√
√
√
114
√
√
√
√
√
141
√
√
√
√
√
√
159
√
√
√
√
√
√
168
√
√
√
√
√
√
219
√
√
√
√
√
√
273
√
√
√
√
√
√
324
√
√
√
√
√
√
...
√
√
√
√
√
√
The above specifications are standard.
If necessary,we can provide you with the free custom services.

Yaolong can provide fixed bollards and removable bollards.
Fixed bollards can be installed in densely populated places such as schools, airports, shopping malls, supermarkets, and pedestrian streets to control the diversion of people and prevent vehicles from entering.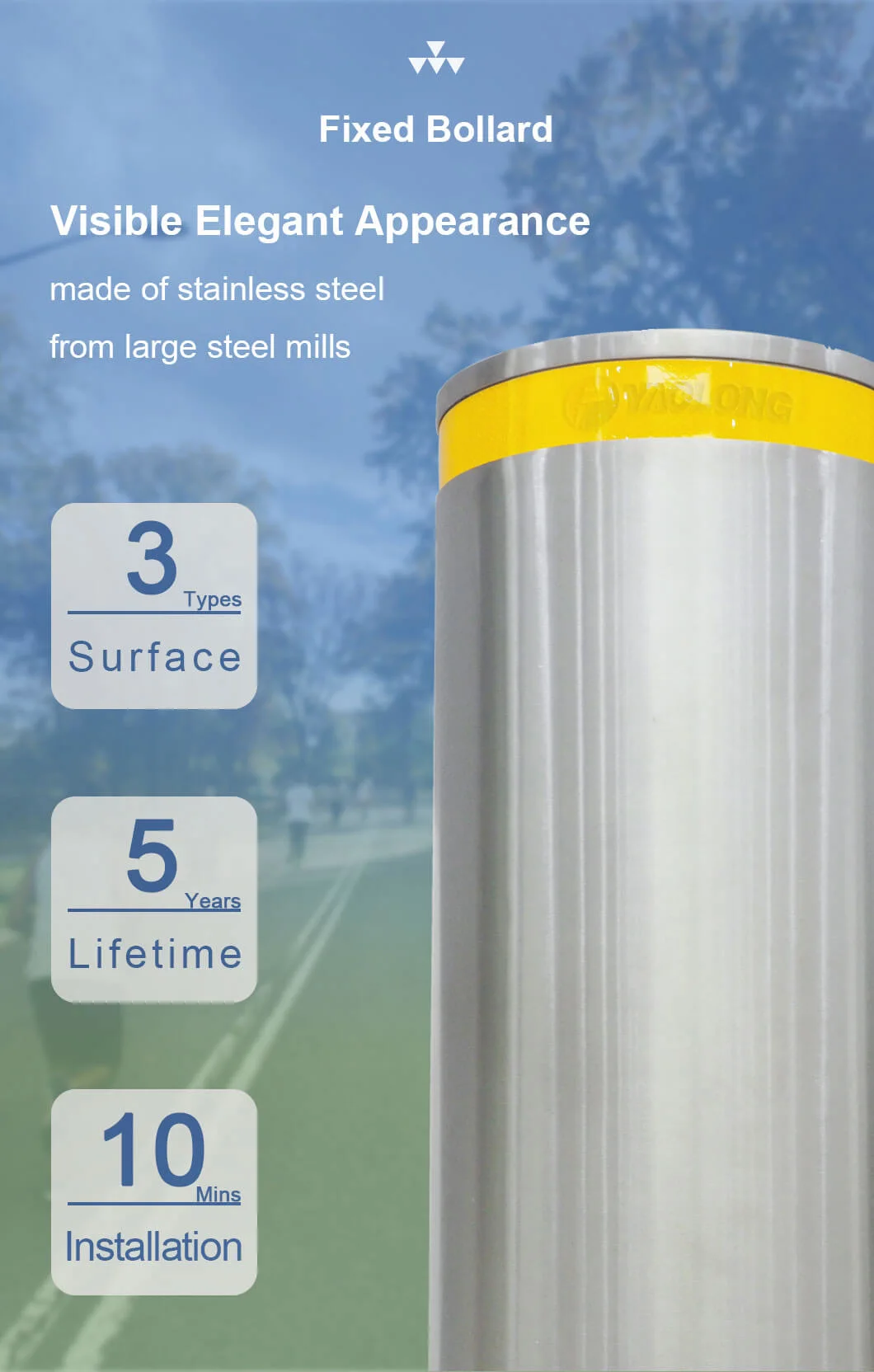 Compared with places where bollards are not installed, there is a 60% reduction in accidents of pedestrians accidentally injured by vehicles, to ensure the safety of citizens, and it is safer for children to walk alone on the road.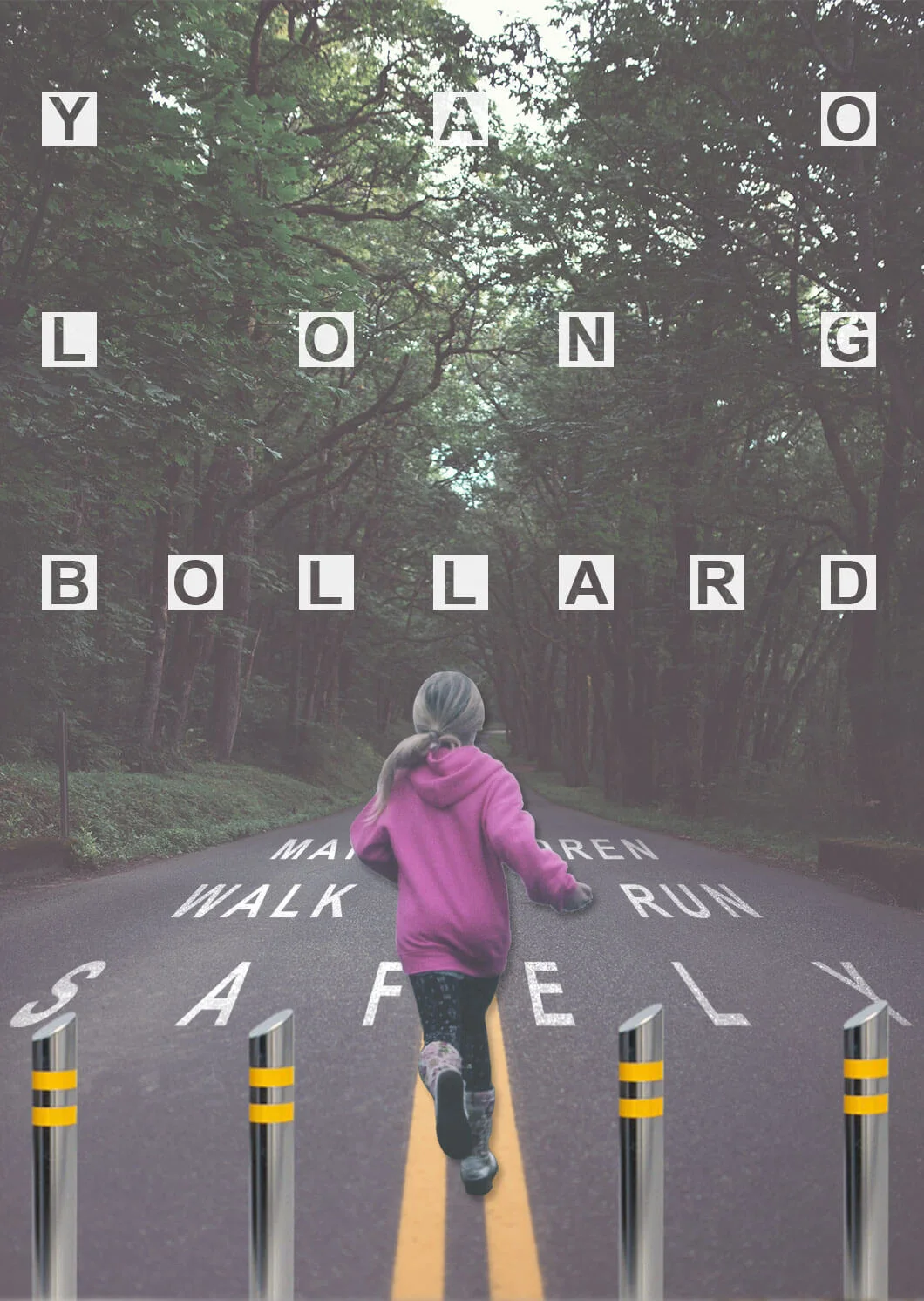 Removable bollards can be installed in shops, shopping malls, residential quarters, villas and other places where vehicles need to be convenient to enter and exit and transport goods. In addition to the role of fixed bollards, when necessary, you can also use the key to move the guardrail posts to facilitate vehicle entry and exit and reduce the loss of manpower and funds.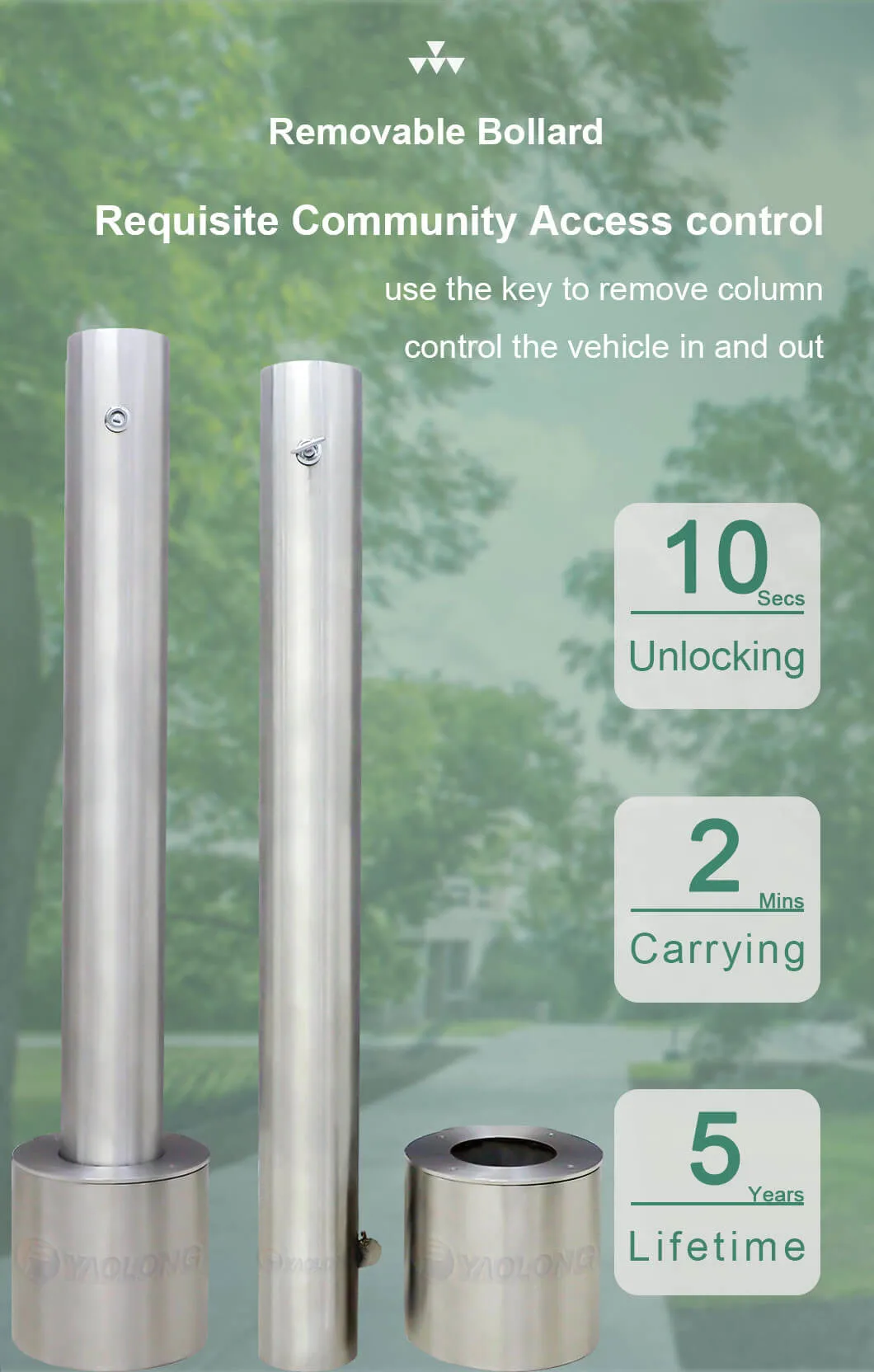 If you want to control the vehicles entering and exiting in a fixed area, Yaolong Bollard Advisor advises you to buy both fixed bollards and movable bollards, which can reduce costs and achieve the same effect.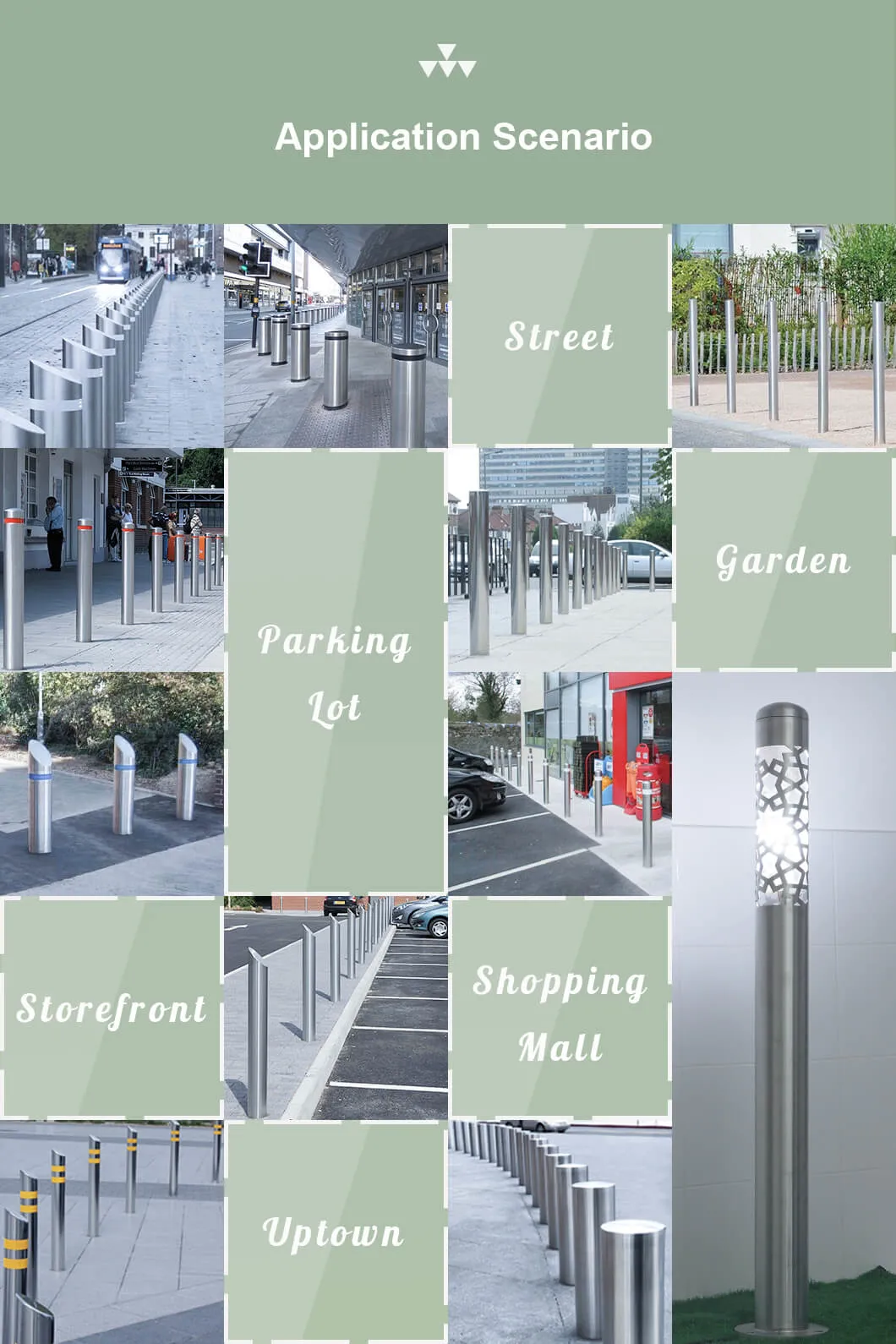 Three top shapes, three surface treatments, and three installation methods, just like building blocks, It is free to choose.
If the simple style does not meet your needs, we will also launch new styles from time to time.
If you have a special design drawing, and you are having trouble finding a maker? You are welcome to consult us, maybe we will be your Mr.right.



Guangdong Yaolong Metal Manufacturing Co., Ltd. is established in 2004. It is a modern enterprise which integrates R&D, design, production and distribution , specializing in manufacturing stainless steel bollards ,stainless steel &aluminum flag poles , stainless steel & aluminum light poles and stainless steel welded pipes with 5 factories.

We has a complete series of advanced equipment from Germany, Japan, Italy and France, including 16 meter long bending machine, plasma auto- welding machine, 12meter laser cutting machine, polishing facility, anodizing facility etc.We have a team of professional designers, engineers and skillful welders.The annual production capability is more than 10,000 tons.

Yaolong Company has been vertified and recognized as material manufacturer according to AD 2000-Merkblatt W0, PED 2014/68/EU, and TUV ISO 9001:2015 International Quality System. Products are exported to global markets, maintaing high appreciation in domestic and oversea markets.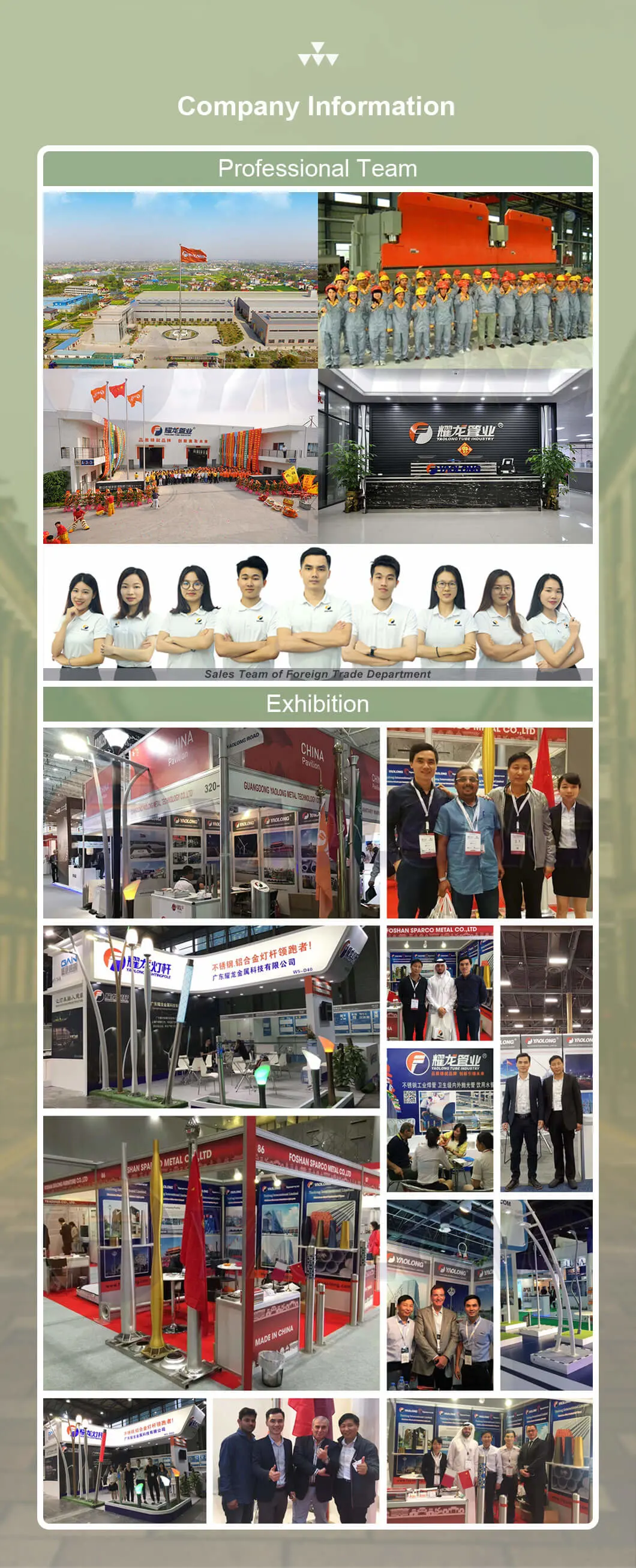 Key success stories
In 2014, Yaolong was very honored to have received 800 bollards orders from the Abu Dhabi City Municipality. According to customer requirements, we engraved the Abu Dhabi logo on the slope of the bollard. Despite the difficult production and quality inspection process, we delivered the goods perfectly. These bollards have been installed on the side of the road in Abu Dhabi to ensure the safety of citizens and enhance aesthetics.
Five years later, we set foot on the land of Abu Dhabi again because of visiting customers.The key point is that we saw these bollards again, and the flagpole customers who accompanied us praised our bollards.
And this road pile customer asked for more than 300 angled top bollards of the same style in 2019.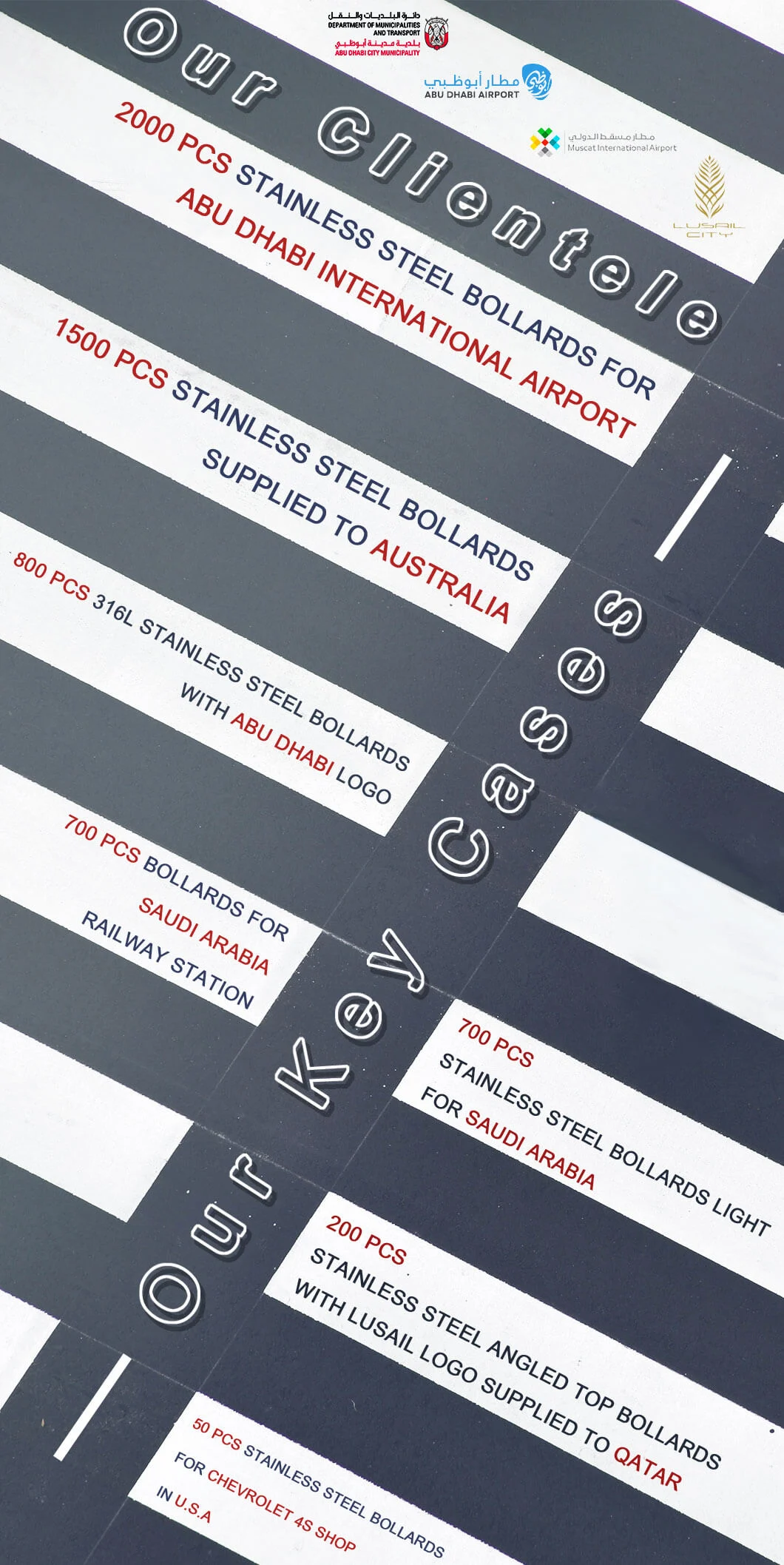 FAQ

Q1

We are the manufacturer with 3 factories. Specializing in producing and exporting stainless steel bollards for over 10 years.

Q2

It is according to quantity. Generally it is 30 days.

Q3

If you don't need to print your logo or other artwork on the products, we will not charge any cost, just tell us your freight collect account like Fedex, DHL, TNT. If you don't have, we need to charge Express fee properly.

Q4

Our goal is to provide you the best price with great quality assured in a long run. Please leave your contact information for the best quotations, we will get back to you with the best solutions as soon as we can.
I believe you have already seen the initial understanding of Yaolong here.

If you want to know more, or if you have any questions, welcome to communicate with us, we can discuss together.
Looking forward to your inquiry ~