Cuplock
-
a type of scaffolding that is joined together by a system of metal cups which lock the beams in place. This system is both structurally sound as well as easy to install, making setup simple. Cuplock scaffolding is often used for job sites that need to be constructed quickly and need to support a heavy load. It is a unique system because it offers a method of linking four horizontal bars together simultaneously in one place, at a common joint, reducing the time it takes to assemble the system and creating an incredibly safe working environment.
Cuplock system scaffolding has been designed to meet the requirements of the construction and housing industries.
The success of cuplock scaffolding lies in its principal design features:
- System comply with EN12811 and ANSI/SSFI SC100-5/05
- Speed of assembly
- Versatility of applications
- Simplicity of components and their connection
- Elimination of loose wedges
- No special tools required for assembly (hammer and spirit level only)
- Low maintenance required to keep in top working condition
About us-
We are professional at providing Industrial Scaffold for a long time. With over 13 years' experiences, as always we Coronet will do all we can to make this business relationship a success as following:
Quality
- We have facilities in Southern China (Near Shanghai) which is known for the quality of its steel and workmanship.
Competitive pricing
- In the year 2017, we delivered more than $13 million scaffolds to worldwide countries. This provides a buying power that other may not have.
Superior Customer Service
- history of having been in business for over 12 years, Quality US References, Offices in Both China and United States (offering 24 hr. service).
An overwhelming desire
to make sure you receive a 100% effort in all aspects of our relationship.
Coronet professional engineering team
will be ready to solve any problems from the drawing to complete assembly of the finished products.
Scaffolding caster wheel is used at bottom of scaffolding vertical tube, enabling the scaffolding system to be a mobile Platform.
| | | |
| --- | --- | --- |
| Item No. | Description | Weight (kgs) |
| CW8 | 8''x2'' Caster Wheel | 5.5 |
| CW12 | 12''x3'' Caster Wheel | 3.8 |
Ringlock Caster Wheel Details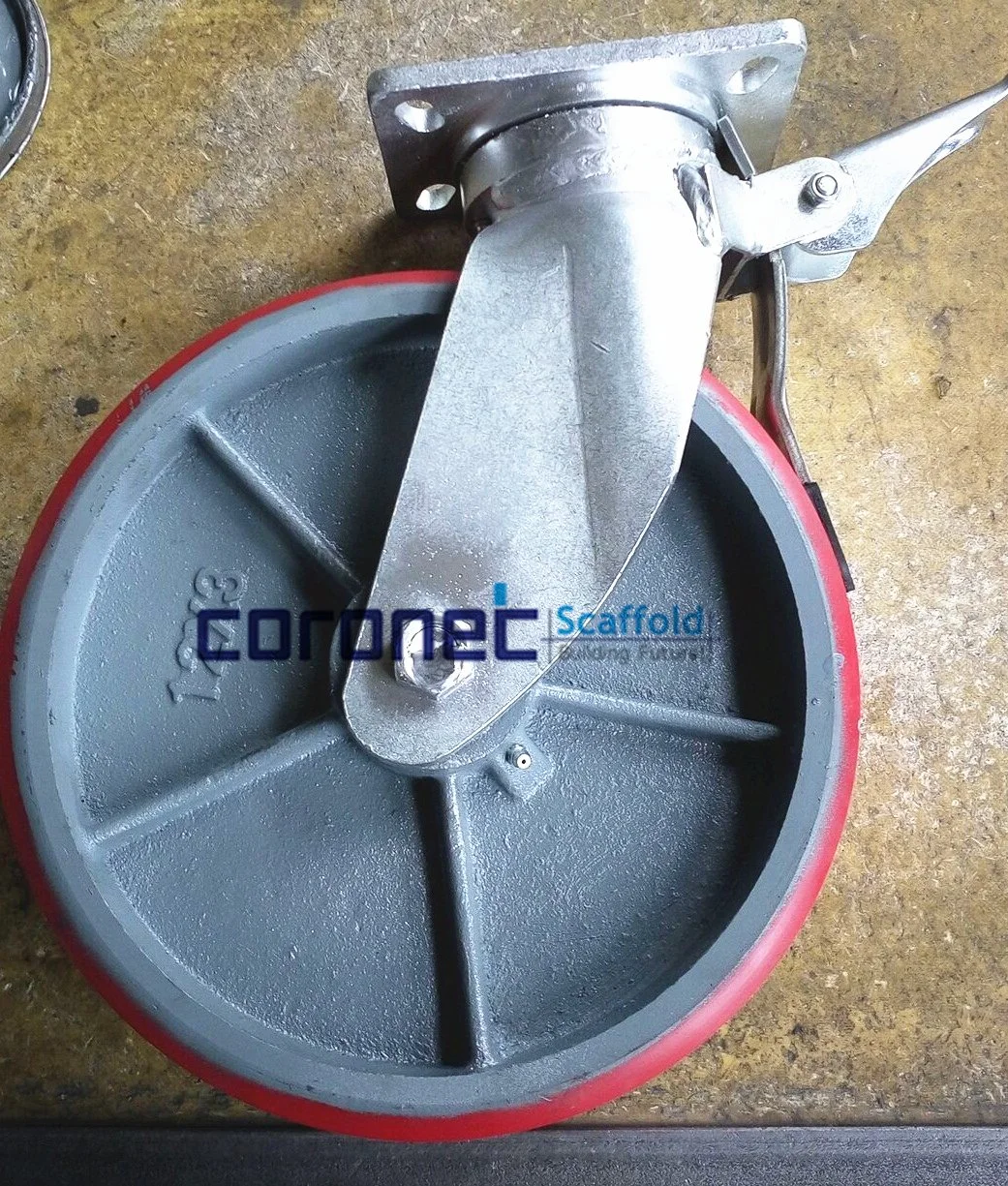 Australia Style Scaffold Caster with Base Jack
Packing